Discover the rich cultural heritage of Halkidiki, Greece through its fascinating museums. Immerse yourself in the treasures of Halkidiki's past through these captivating museums.
Halkidiki, a picturesque region in Greece, offers not only stunning natural landscapes but also a rich cultural heritage. For those interested in exploring the region's history and heritage, Halkidiki is home to several noteworthy museums that are worth a visit.
One of the most prominent museums in the area is the Polygyros Archaeological Museum. Located in the capital city of Polygyros, this museum showcases an extensive collection of archaeological artifacts, providing insight into the region's ancient past. Visitors can explore exhibits filled with pottery, sculptures, jewelry, and other objects that date back thousands of years, offering a glimpse into the lives of the people who once inhabited Halkidiki.
Another must-visit museum is the Nikiti Folklore Museum, situated in the charming village of Nikiti. This museum showcases an array of traditional artifacts, tools, and costumes that depict the daily life and customs of the people of Halkidiki. It offers a fascinating insight into the region's folklore and traditions, creating a deeper appreciation for the local culture.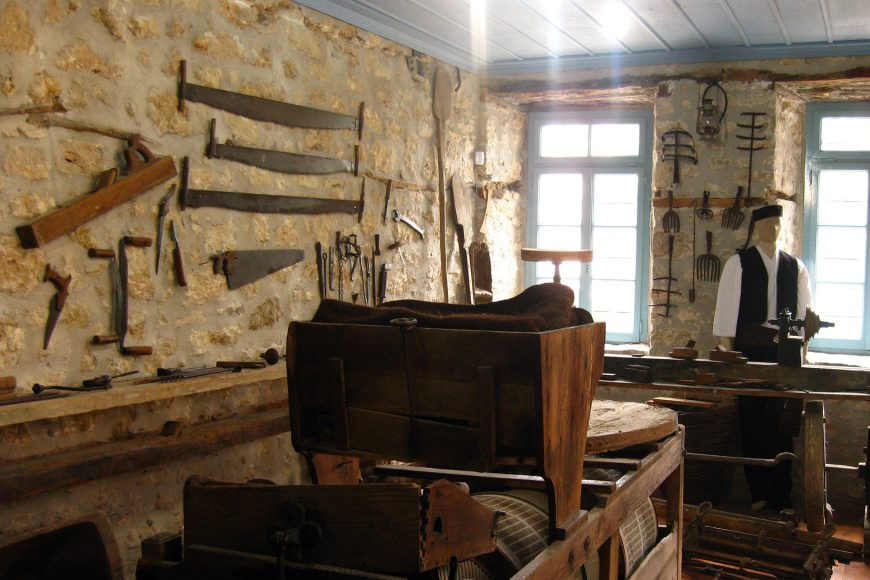 If you're interested in local history, a visit to the Folkore Museum of Afitos is highly recommended. Afytos, a minuscule seaside community situated on the Kassandra peninsula of Halkidiki, is where the museum is situated. Traditional architecture has been bestowed upon the town. Nearest Nea Moudania, Greece, is approximately 21 miles away and 75 miles from Thessaloniki.
Lastly, you should not miss the Petralona Cave and Anthropological Museum. This site is famous for its stalactite and stalagmite formations, but it also houses an Anthropological Museum that showcases the discovery of the famous Petralona Skull. This fossil, estimated to be over 700,000 years old, provides valuable insights into human evolution and is a significant archaeological finding.
So, whether you're intrigued by archaeology, folklore, religion, or anthropology, Halkidiki's museums have something to offer everyone. They provide a captivating glimpse into the region's past and are sure to leave visitors with a greater appreciation for the rich cultural heritage of this enchanting Greek destination.